MACHINES, COMPLETE LINES, AUDITING, TRAINING…
EVERYTHING GEARED TO YOUR GROWTH
For 35 years, Massilly Services has been helping its clients with their growing ambitions by designing evolving packaging systems for them.
Whether for the food industry, pharmacy and cosmetics, or the building industry, our technical teams and research unit are available to help you optimise your processes and gain in efficiency and peace of mind: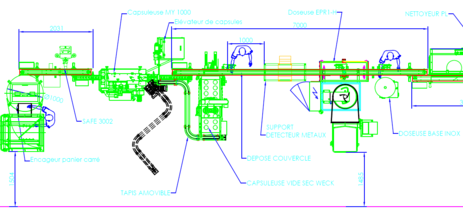 We audit your packaging work flows for the setup of complete lines or new materials in total harmony with your working methods

Our range of machines allows us to offer a solution for every step of your process: depalletiser, cleaner, capping machine, measuring system, seamers, conveyors and more
Installation and setup of machines on your premises
Hot Line service provided by our automation experts
Rental contract
Maintenance contract, sale of spare parts
We help your teams to better master the processing of metal packaging products, by training them in the use of materials and good manufacturing practices:
- Training in machine operation, when in service or later depending on your needs, and technical training for your maintenance service
- Crimping, capping, filling, setting of the machines
- Quality analysis
- Organisation of dedicated training days or participation in multi-client days
- Since Massilly Services is an authorised training centre these sessions can be charged to your training budget.
Machines
We design and manufacture machines for dosing, capping, seaming and packaging of your products. Massilly Services teams are also at your disposal to audit your packaging lines and help you optimize your processes to gain efficiency and serenity.