ALL THE SUPPORT YOU NEED, FROM FOOD CONTACT EXPERTISE TO OPTIMISING YOUR PROCESSES
To let you focus on your business, we provide an expert technical assistance service that's always ready to help. Located in Europe, Asia, North America and Africa, our engineers and technicians operate on site alongside your teams, at every stage of production, during your packaging and filling processes: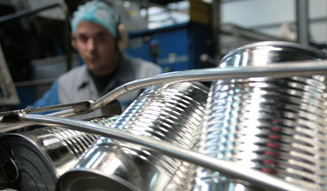 Testing and approval of new products or features (new formats, joins, varnishes, shelf life pack testing, etc)
Support with food contact issues (varnish recommendation, migration analysis)
Recommendations on suitability of container / contents before going to market
Technological support
Analysis of critical points and processes (analysis of seams, capping, etc)
Team training in procedures for using our packaging or machines
Auditing, installation, adjustment and maintenance of the lines
Intervention in French, English, Spanish, German, Italian, Dutch, Danish, Russian, Arabic and other languages
Our technical team is here to help throughout your entire production campaigns for guaranteed efficiency and peace of mind.
We are a certified training centre and can organise dedicated training sessions to ensure proper skills transfer.

technicians at your service

languages spoken

spent alongside our clients in 2017

km travelled to reach our clients' factories