In metal we trust
At Massilly, we consider metal to be the noblest of materials.
Long-lasting, flexible and protective, it combines all the qualities needed to preserve your products, but also countless advantages to help face some of our world's most pressing social issues today, whether access to healthy food for all or preserving the planet.
Canning may now be 200 years old, but it has never seemed more relevant.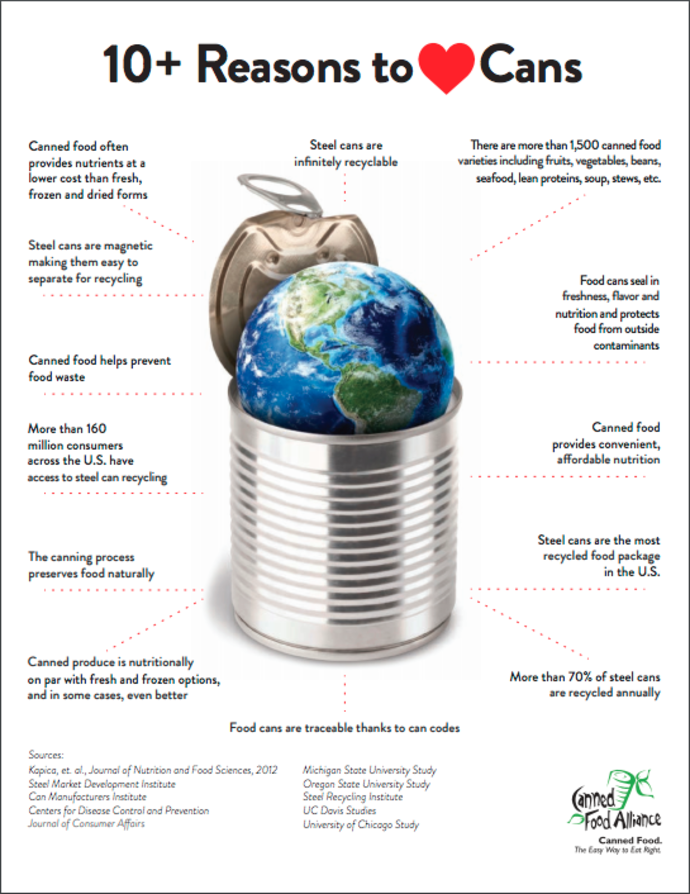 Preserving the best of your products
The primary aim of metal packaging is to protect your products, to allow them to truly shine. Indeed, metal packaging has everything it takes to achieve this:
Pratical : metal packaging is available in a vast range of sizes, from the humble tomato can to the steel barrel for transporting paint in large quantities.

They require little secondary packaging for either transport or presentation at point-of-sale.
Resistant : resistant to impacts and blows, metal packaging can withstand extreme temperatures and pressures.

They provide maximum safety for food or other sensitive products

. Up to 10,000 tins of canned goods can be stacked in 1m3.
Attractive : A multitude of shapes, sizes and printing formats are possible allowing the creation of packaging to help make your brand more attractive.
Economical : another advantage of metal, it enables competitive costs within optimum timescales.
(c) Mealtime.org, courtesy of the Canned Food Alliance
To preserve our planet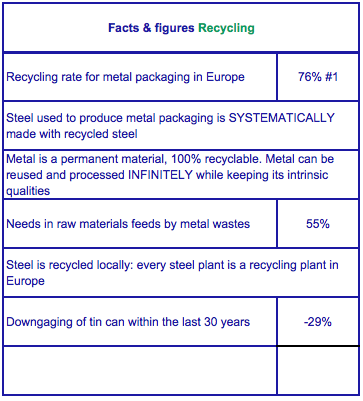 Metal is a permanent material which can be recycled infinitely without losing its inherent qualities. Up to 80% of all metal ever produced in the world is still available for use!
When metal starts the recycling cycle, it can be reused again and again: metal is systematically produced with metal waste that meet more than half of the metallurgical industry needs and are therefore 'sought after'
In Europe, metal is recycled locally: manufacturing factories are also recycling factories.
Finally metal packagings are easy to recycle as evidenced by the record rate of 78% of recycling in Europe and rates that go up to 96% in the Netherlands! Just have to adopt the right action and put his metal packaging in the right bin.
Let's just say that metal packaging is at the heart of the circular economy.
To give access to a healthy and nutritional food to all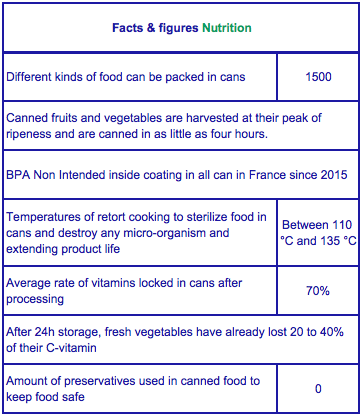 In 1795, Nicolas Appert discovered that by heating food in a tightly closed container, the product can be kept indefinitely.

His invention, which earned him to be awarded with the title of "benefactor of humanity" by the British, allows the conservation of food in optimal conditions of security and preservation of the nutritional qualities of foodstuff.
To reduce the food wastage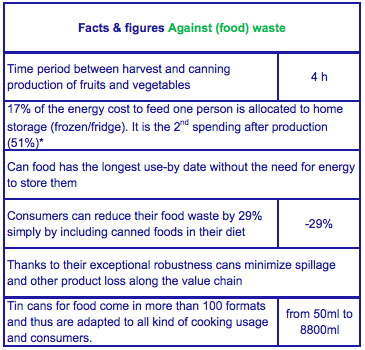 At a time when 1.3 billion tons of food are wasted each year, the metal box minimizes losses during the entire production line due to its resistance and ease of filling.
Preserves have the longest shelf life and are kept at room temperature without any risk of the cold chain rupture, avoiding once again the loss and waste.
Metal Packaging and Circular Economy